Political artist and Web designer Clinton Fein is most closely identified by his Annoy.com Web site on the Internet. Both alter ego and political forum, the site targets unsavory politicians and their policies — where treachery, deceit, and outright lies are redressed through Fein Justice — meted out through savage satire and searing honesty.
When it comes to the Bush/Iraq debacle, Fein pulls out all the stops. He skewers the current administration with an arsenal of vitriol and shocking humor, utterly eviscerating the powers that be.
Lewd and ironic postcard images on his Web site highlight the sanctimony and pretense of the administration's holier-than-thou posture. A satiric re-creation of a Last Supper scenario, for example, features a robed Bush, Cheney and Rumsfeld amid the full panoply of White House power players. The title, Better Be the Last, portends the demise of a bankrupt regime.
The burr under Bush's saddle, Fein is a pesky annoyance who doesn't go away. His intent to annoy is backed by no less that the U.S. Supreme Court. Knowing too well the effect of censorship in his native South Africa, Fein took on the United States Government in a suit against Attorney General Janet Reno pertaining to the Communications Decency Act. His successful outcome protects vulgar and annoying language on the Internet. Fein's astute use of the law, as it applies to his artistic ventures, allows him greater latitude to respond creatively to his current political agenda. The confluence of law, politics, art and intellect, as it defines his artistic process, is unusual and unique.
Fein's latest salvo into the political fray takes the form of two strategically timed, successive solo exhibitions. WARNING!, which opened at New York's Axis Gallery during the Republican National Convention and runs through October 2, chronicles four years of Bush the Younger as well as a series of deceptively calm photographic installations relating to freedom of expression and vulnerabilities in America's roads, bridges, trains and ports. Numb and Number, which opens at Toomey Tourell in San Francisco on October 7, focuses on the extent to which numbers are used to numb, confuse and manipulate an increasingly insecure public. Also reiterating on themes of the Bush Administration, the exhibition runs until November 13, comfortably past the Presidential election.
Fein's digital "Weapons of Mass Destruction" are Photoshop, video, music, poetry, text, photography and imported images off the Internet. Seamless assemblages, photomontages, crude imagery and irony make up a virtual diary of the missteps and calamities of a second Bush administration.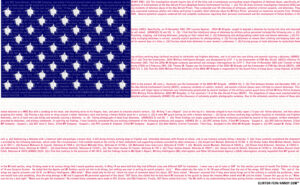 Fein's damning riposte to egregious policy hits hard in the instance of Abu Ghraib. Entitled, Like Apple Fucking Pie, the story of this piece takes place in the fine red print of the Taguba report, which the Secretary of Defense failed to read. The artist reworks the text to resemble Old Glory itself. Blank white stripes refer to Rumsfeld's vacuous response to the torture that took place on his watch. Red stripes are the full accounting of the report, while hooded silhouettes of detainees become white stars set against a blue background.
As a Web-based artist, Fein produces outrageous graphics that make an instant statement. The artist's deft understanding of his political content and high-impact images are communicated and disseminated globally, taking on an afterlife of their own. His campaign of Shock and Awe is unrelenting as he pairs his message with a meticulous attention to detail. While many slap-dash images circulate on the Internet, Fein makes every pixel count. His aesthetic and technique place him squarely in the historical continuum of political art and graphic design — from Anti-War Cartoons to Propaganda Parodies.
Artists Robbie Conal and the assemblage artists, John Hartfield, are among Fein's early influences. Research and documentation are the other strategic tools of his trade. Fein's information must be absolutely accurate in order to keep the pressure on his intended targets. His efforts in this arena are similar in tone to the work of the 1970's artist, Hans Haacke, who used documentation and photography to successfully unearth corrupt politics and business practices in New York.
In the realm of protest, Fein is an important player in the resurgence of the current anti-war movement. Once neglected, political protest art now flourishes as an effective vehicle of rebellion. Soviet-style and Nazi-era propaganda posters, in their concise graphic intent and message, are effective prototypes for the 21st century. Taped to lampposts or posted on the Web, the content conveyed can be a powerful weapon against prevailing powers.
Fein knew little of the prevailing forces of Apartheid growing up in the suburbs of Johannesburg. During his college years at the University of Witwatersrand, he became increasingly political. In a 1997 interview in The New York Times, Fein recalled the harsh climate of censorship in Johannesburg: "I grew up censored. When I left South Africa, I could be imprisoned for quoting Nelson Mandela. Part of my reason for becoming an American was to enjoy the freedoms of the First Amendment."
Fein left South Africa for the United States in 1986. Several years later, he had become one of the earliest practitioners of the Internet. The source of his art stems from his highly attuned awareness of injustice. A measured individual, the artist pursues his aims with lawyerly decorum. Fein's deeper emotions, however, tap into the darker zones of anger and outrage. Indignation is his ally as he brings together a body of work that both appalls and inspires.
The Fein format includes color resolution, pithy slogans and bold fonts infused with ironic intention. The speed and resilience of digital technology make it possible for Fein to create carefully constructed, fully formed graphic images. Researched clips and images — from art history to breaking news — meld into one astonishing image after another. Compositionally, image and text forge strong unassailable pictures.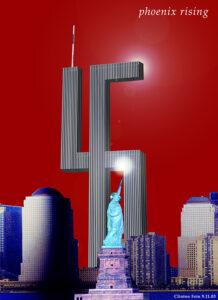 In Phoenix Rising, for example, an eerie blood soaked background looms over the gaping absence of the World Trade Center. In its place, the twin towers have been twisted and mangled into the shape of a Swastika. Trading her signature torch for a sieg heil, Lady Liberty oversees the erosion of civil liberties. In the stillness of this image there is a sense of elegiac resignation. It is among the quieter, more somber images in the Fein oeuvre.
Two recent videos from the artist complement his digital work. In Lust for Life, graphic wartime footage showing flesh wounds and maimed children in Iraq is set to fifty-piece plus full orchestral cover of the Iggy Pop song of the same title performed by the Punk Rock Orchestra. Since 1991, the Pentagon has refused to release images of dead or injured victims of war returning to the United States. Using sources from Al Jazeera and other international wire services, Fein has been able to bring to light the horrific toll on the Iraqi people, and juxtapose it against the formal and sanitized return of dead American servicemembers.
One Summer is a video recounting of the antiwar demonstrations on Market Street in San Francisco, 2003. The paraphernalia of resistance and enforcement is played out on streets teeming with protestors as wary police attempt to keep order. Resistors brandish their tools of protest: posters, songs, chants, sit-ins and overall street theater. On the other side of the barricade are officers in the full regalia of police power. Cop jewelry, including clubs, helmets, handcuffs and full-on riot gear, intimates the possibilities of violence as two sides collide. The aesthetics and apotheosis of enforcement is lavishly displayed in the awesome phalanx of police warriors on the line. The Clinton Fein corpus addresses a highly charged, political environment in volatile times. Rooting out complacency through activism is the impetus of Fein's political engagement. With a hugely important election on the line, the artist urges others to take up his clarion call for action. So much is at stake. His potent images and critical writing make a strong case for advocacy.
Hopefully, Fein justice will prevail.
Deborah Phillips, a longtime editor and reviewer of the visual arts, is currently based in San Francisco.