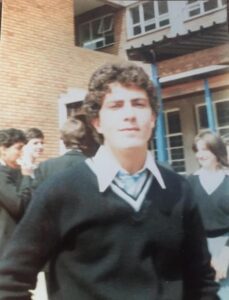 I was fourteen when I got to King David High School. It was such a relief to be at a school with girls again. So much easier for me to hide who I was with girls on my arms. Compared to the excess testosterone and lurking danger of Highlands North, King David was a breeze.
The disadvantage, however, was that King David had a higher standard of education than Highlands — being a private school and all — and so when it came to subjects like math, I was so far behind that it was impossible to catch or keep up. The problem with this is that children who feel left behind are treated with disdain by teachers who feel they are simply not applying themselves and are either stupid or disruptive—a self-fulfilling prophecy on their part, and one that I bought into and ran with.
The more teachers showered me with their disdain; the better it was for the rebellious image I was trying to cultivate. At Highlands North High, I had been too young, scared, and inexperienced to pull off this calculated image-making, but King David was the perfect institution to nail it. Once I added drugs to the mix, my street cred was as good as it got.
As my secret and intensely sexual relationship with Stuart continued unabated, I found myself increasingly attracted to the boys around me at school. Figuring out ways to mask what I knew I had become became imperative. I made a point of befriending the athletes and the jocks. The boys I found the most confident and attractive, which had their drawbacks. I was perpetually conflicted — a recurring theme for yours truly — over whether I wanted to fuck them or be them.
Unlike my well-honed — albeit imperfect — ability to hide who I was, Bryan Schimmel was less successful at it. And because he stuttered, it only made things worse for him. Children are inherently cruel, and the second they spot a perceived weakness, they prey on it, like sharks. Bryan was the perfect decoy to redirect any suspicion that might have been aimed at me. I didn't just join in the bullying, though, I would also initiate it.
I remember punching him — physically inflicting pain — as a deflection, foolishly deluded into believing that my bullying made me more of a man, not less. So long as the focus was on Bryan, who was mercilessly mocked and branded with every anti-gay epithet under the sun, it wasn't on me.
No one could possibly know how in love I was with Robbie Koseff, or how turned on I was by all the cool, popular boys I craftily and deliberately surrounded myself with if I was aggressively bullying Bryan. I vividly remember seeing the hurt and anguish on Bryan's face. In his eyes. It's ingrained.
If only I could rewind, I would have realized that the best way to assert my masculinity would have been as Bryan's protector rather than his tormentor. To have demonstrated compassion rather than aggression and benefited from his brilliant, creative mind rather than cruelly capitalize on his fear and pain. But hindsight is always twenty-twenty.
Not surprisingly, our life paths would not be all that dissimilar. But I cannot — and dare not — take even an iota of credit for Bryan's hard-fought, uncompromising resilience. Nor for the monumental musical talent he became — even if it was borne of the adversity he faced and the indignities and violence he suffered to get there. Nor for how he managed to magically cultivate and translate his pain into art. Having to deal with the bullying he endured, addiction, homophobia, and shame. His successful outcomes were by no means guaranteed. They were earned with literal blood, sweat, and grit.
Our paths never crossed after school, even though he also spent time in New York, and I only was reminded of him again a couple of years ago when it turned out we had a mutual friend from school with whom we were both still in contact. I had been quite surprised when he had accepted my friend request on Facebook, even though no conversations ever came of it, yet not all that surprised to notice how he had transformed himself into a hyper-masculine, muscled and well-toned, openly gay man.
I poured through his posts, impressed by all he had achieved as a musical director, pianist, lyricist, singer, and composer. A widely admired and celebrated musical prodigy.
I was again surprised when he agreed to meet for lunch.
Waiting for him at Tasha's, a trendy Morningside eatery in Johannesburg, I felt anxious and trepidatious. Would he remember me for being the loutish, unkind bully I remembered being, or might he have seen something beyond that? Had he taken the time to explore my Facebook page to see whom I had become the way I had explored his, or was it arrogantly presumptuous to even think he might be interested? As people chatted around me, I wondered what I would say. How would I broach the topic?
When he arrived at the restaurant, I recognized him immediately. I walked over to greet him.
The first thing he said to me was: "I recognize you from your resting bitch face." I grinned a little uneasily. Many a true word is spoken in jest, the saying goes, and although he smiled when he said it, I realized instantaneously that he remembered everything.
We ended up having an amazing conversation. Swapping stories about our lives, the various similarities and intersections, and the divergent paths we took. The bullying Bryan was forced to endure scarred him. Deeply. So significant and prevalent, he had given talks to schools — including our high school, King David — about the impact of bullying and how it affected his life. He had taken his bitter, soul-sucking experiences and parlayed them into a gift to prevent it from happening to other teens.
His honesty, vulnerability, and resolve humbled me, bringing tears to my eyes. I detested any role I had played in causing so much damage. For most of my life, my self-loathing for things I wasn't responsible for caused me the most heartache. But this was one of the few exceptions where I was indeed the culprit and deserving of the derision I pored on myself. That I was capable of that callous cruelty remains cautionary for me, even though I no longer recognize that person. I remember him all too well.
Bryan got the opportunity to confront me on his terms. I got to hear it from his perspective, devastating as it was to listen to. I also got to apologize, a gift for which I am incredibly fortunate. Bryan didn't owe me his forgiveness, and I had no right to expect it, and yet graciously and generously, he forgave.
We discussed the possibility of doing a talk together to demonstrate the awful cost and lost opportunities that arise from bullying and the power of reconciliation. A process that would require me to tap into and share one of the most shameful and ugly sides of me — and one I would just as soon forget ever existed. In some ways, this retelling is the beginning of that process. We both walked away from the lunch feeling freer and lighter.
I now get to appreciate Bryan for his talent and his resilience. And everything I missed out on and was deprived of by my violent behavior. He wrote about some of these themes for a one-man show he wrote, More Than a Handful. Astonishingly open and brave.
We have become friends. He's my people. There is genuine love. He's a member of my tribe and always will be. He always was; I just didn't realize it. Although nothing can ever erase the harm I inflicted, I am incredibly grateful for his forgiveness and the opportunity even to try. Facing one's shame is always hard work — in many ways, the essence of this book — but overcoming the shame I felt for how I treated Bryan Schimmel was among the most difficult and rewarding.